2023 Pre-Season Schedule
Save the Date for our 1st Parent Meeting! Thursday, March 30, 2023 @ 6:00 PM | Dixie High Lecture Hall 100
Stay up to date on the pre season schedule by checking out Team Snap
---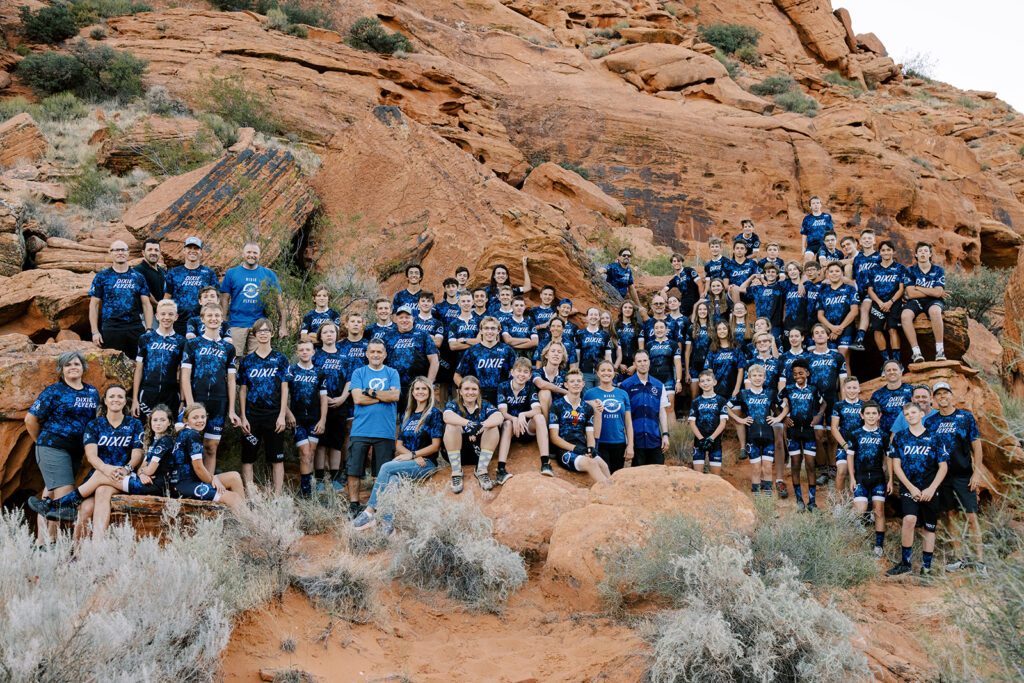 2023 Race Schedule
Here are the dates for the bike races this 2023 season. Add these dates to your calendar now!
August 19th – Manti
September 2nd – Cedar City
September 16th – Beaver (new venue!)
September 30th – Eagle Mountain (High School Only)
October 20th – 21st – Location TBD (State Championships)
---
What Equipment Do I Need?
To ensure you're prepared for the challenges of the trail each and every Student-Athlete is required to have the following equipment. 

Mountain Bike (proper working order)
Bike Helmet (must fit properly) 
Gloves
Close-Toed Shoes (no sandals) 
2 x Tubes (even if riding tubeless, right size for the bike)
Hand Pump
Patch Kit
2 x Tire Levers
Multi-Tool (optionally w/Chain Breaker)
Chain Breaker (if not on multi-tool)
Spare Quick-Link (sized specifically for your chain)
Hydration Pack (must fit correctly and be a hydration-specific pack)
70 oz Hydration Bladder w/70 oz of water
Required Medications (e.g. Epipen or Inhaler)
Nutrition (a simple granola bar or gummi bears is fine) 

Optional

Eye Protection (strongly recommended) 
Spare Derailleur Hanger (made specifically for bike frame) 
CO2 Inflator + Cartridges (may not replace hand pump)
Water Bottles (may supplement the 70 oz of water required to be carried in the hydration bladder. Must be mounted on the frame within reach while riding)

Mask, Bandanna, or Buff to cover face when closer than 6' to others
Who Can Join?
There are two age group divisions on the team. The Junior Devo program is designed to introduce 7th and 8th graders to the sport of mountain biking with an emphasis on fun, skills, fitness, and NICA's Five Core Principles of Inclusivity, Equality, Strong Body, Strong Mind & Strong Character as well as a taste of racing and the competitive aspects they will find when graduating to the High School Team. To be eligible for the Dixie Junior Devo program you must be entering into either 7th or 8th grade during the 2020/2021 school season.
The High School Program program picks up where the Jr. Devo program leaves off. We continue to focus on fun, skills, fitness, and NICA's Five Core Principles but place a heavier emphasis on competition and racing. To be eligible for the Dixie High School program you must be a 9th through 12th grader while attending Dixie High School during the 2020/2021 school year. If you are a homeschool or charter-school student you may be eligible to participate. Please contact Sam Stoddard ssbike@live.com if you would like to join us.
While the two programs are somewhat different in their goals and execution our foundational expectation of each and every student-athlete and parents is the same… if you want to ride and race, regardless of your age, gender, ability and goals, all we ask is that you provide a dedicated and consistent effort while being respectful of each other and the coaching staff that makes all of this possible. If your goal is just to finish your first race, or you're riding to stand on top of the podium, we'll give you the support you need to assist you to accomplish your goals.
Who Are We?
We are the Dixie Flyers Mountain Biking Team. Our team is sanctioned by, and competes within, the Utah High School Cycling League (aka "the League") and governed by the National Interscholastic Cycling Association (aka "NICA"). High school mountain biking is a unique individual and team sport. There are NO tryouts and there is NO bench. Everyone rides and everyone races. Regardless of your fitness, endurance or skill level, if you're ready to commit, you're on the Team. You ride! You race!